5 Content Types That Worked Well In 2014
Content marketing strategy is not just about writing blog posts regularly. It's much more. Writing blogs may be a good start if you don't have any content marketing running currently for you yet but once you are through the initial ordeal try putting in new things in your content like pictures, infographics, videos to name a few. These will make sure you get good new traffic, targeted visitors, higher conversion rates. Let us look at top 5 Content Types That Worked Well In 2014.
There are many content types available in digital world and we have seen over the years popular content types changing and people are not afraid to try out new options available which is good for the industry and its growth.
Some of the recent and popular content types are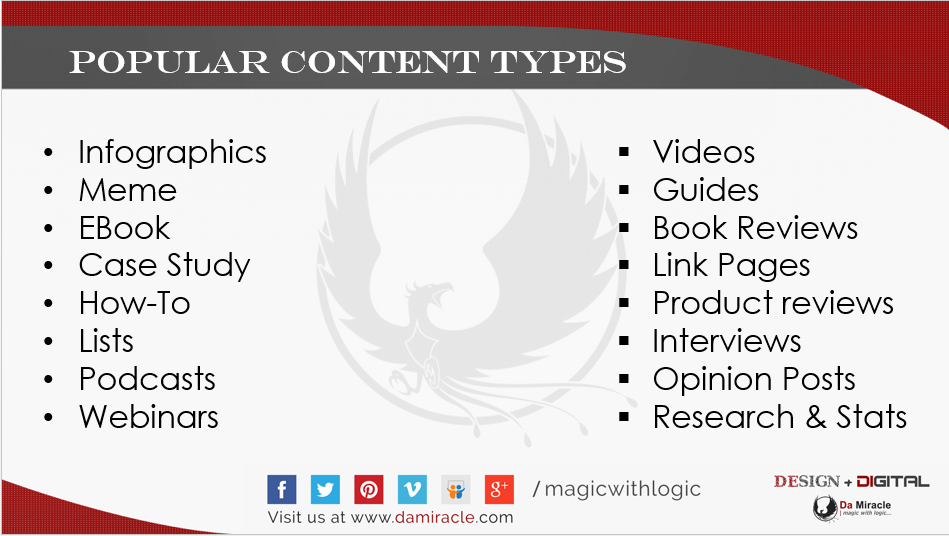 This list of content types is not in any particular order and might have different significances for B2C and B2B segment. It's impossible to incorporate everything in your content marketing and hence based on your industry and target audience you must find out which content type worked best and will still draw enough eye balls in coming years. Don't be afraid to try new things, if you get it right you can enjoy early mover's advantage over your peers who by the time crack the best way to explore that content type you would have mastered the art.
We have picked up top 5 content types you can focus on by including them in your content marketing strategy one by one
1) Video
There's a world of variety within videos. We could write a whole separate post on different types of videos. No matter what type it is, however, a good video communicates a message in a succinct and memorable way. Done well, a video can be extraordinarily persuasive.
How to do it
 Whether you create a video of an office tour, an explainer video, or a music video (it's been done), you've got to get the script right. A video isn't only about the moving picture; it's about the words that you say or display. Check out a few more tips for making an explainer video.
 Put the video on YouTube and Vimeo. Both of these video sharing sites are great ways to garner social signals for SEO and improved results for video search itself.
Things to keep in mind
 Making a good video is not cheap. You can start small, of course, but contracting a video specialist or a camera crew can cost quite a bit.
 Videos aren't supposed to be long. Two to three minutes is a good length.
*Explainer Videos & Micro videos (vine, Instagram) in particular have picked up globally. Just see the rise of explainer videos globally on Google trends.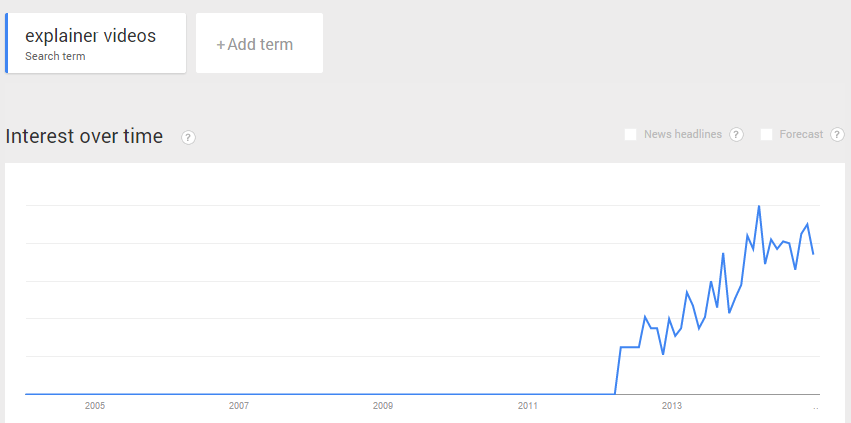 Link:Google Trends – Web Search interest – Worldwide, 2004 – present
Watch Da Miracle introduction video Youtube / Vimeo
2) Infographics – ups and downs but net rising. Won't see much growth but will be crucial for processing tons of information for representation.
An infographic is the presentation of information or data in a visual way. Its name sums it up — info + graphic.
Infographics get shared more, viewed more, and loved more than most other content types. They are a powerful way to get your information out there in an explosively visual format. One study found that infographics were liked and shared on social media up to three times more often than other content. The viral potential is there.
How to do it
If you have a graphic designer in your professional network, tap him or her to make an infographic for you. Some graphic artists specialize in infographics. If you have it in your budget, you can use a service like Visually. Infographics typically start at $1,000.
When to use it
Infographics are perfect for communicating almost any idea or concept. Data, research, statistics, and findings work especially well.
Things to keep in mind
 Infographics can be expensive. The amount cited above — a thousand dollars — is pretty close to the standard price.
 Infographics used to go viral just by virtue of being an infographic. That doesn't work anymore. Everyone is making infographics. Today, you have to make it really good to make it shareable.
 Make a gifographic. Gifographics use the infographic model but feature animated gifs instead of the static images of a conventional infographic. You can check out an example here.
3) How-to
The how-to is one of the most popular types of content, especially in my niche. On my blog, I write a lot of how-to guides. How-to articles have awesome long tail search potential due to these popular long tail query introductions: "How to…" and "How do I…?"
How to do it
First, identify a common problem. Then, come up with a solution. The model is simple:
 Introduce the problem
 Introduce the solution
 Discuss each step of the solution
 Summarize the discussion
 Provide a conclusion
Things to keep in mind
 The options for how-tos are inexhaustible. Think of one topic that reflects something you do on a daily basis. Next, write a how-to article based on that one issue. It could be industry specific or more general: "How to reply to every email in one minute or less" or "How to optimize your robots.txt for search engines."
 The more thorough your explanation is, the better. Diagrams, videos, and pictures can all help enhance the how-to blog.
Most popular how-to guides – www.labnol.org
Popular how-to guides list on Mashable – http://mashable.com/2009/02/18/how-to-guide/
4) Lists
Lists have endless appeal. We're wired to love them. Chance are you're going to see or read an article today that involves some sort of a list — "10 important tools to tackle your Digital marketing ," "8 ways you dint know to rank high on search engines ". To think of it you're already reading an article with the title "5 Types."
From the ancient Ten Commandments to modern lists of everything, numbered ideas are as popular as ever. You can't go wrong with this content type. Even popular magazines use list appeal to sell issues:
How to do it
 Pick a topic, then pick a number. You're halfway to creating a list. A good example of this is this post on 7 ways to increase your rankings without leveraging content marketing.
 When you write your list, use this simple format: introduce the topic, list your points, and provide a conclusion.
Things to keep in mind
 The more detailed your list is, the better.
 Long lists are good too.
 There's no magic number for an awesome list. Odd numbers, round numbers, any types of numbers — they all work equally well.
5) Case Study
A case study explains what your product or service is and how it helped a client. The case study basically says, "Here's what we do, how we do it, and the results we get."
How to do it
To create a case study, follow this model:
 Write a summary of the study and a preview of the outcome.
 Explain the challenges that you had to overcome or the problem that the client was facing.
 Write out the solution you provided. Make it clear and explain it in a step-by-step way.
 Discuss the results of your solution and the ways in which it was successful.
 Provide a conclusion and a call to action.
Things to keep in mind
 Write your case study in such a way that it doesn't come off as pure marketing.
 Make it a story. "Case study" sounds pretty bland, but a good case study is really an inspiring "success story."
Da Miracle is a full service Design & Digital marketing agency based in Kolkata, India offering magical designs and logical digital strategies. A one stop shop for creating your identity, promoting it and solutions to keep your customer happy.
[easy-share counters=1 counter_pos="inside" native="no" hide_total="yes" fullwidth="yes" fullwidth_fix="100"]
About us and this blog
We are a full service agency that deliver compelling digital marketing solution. Our winning solutions and experience helps to deliver great results across several key areas.
Request a free quote
We offers professional SEO services that help websites increase organic search drastically and compete for 1st page rankings of highly competitive keywords.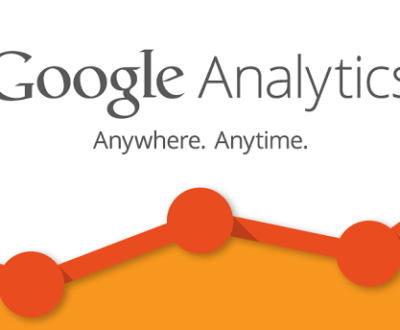 Have you been manually typing all the data into your analytics report?…